Palm Beach Bed and Breakfast – Your Perfect Rockingham Accommodation
Are you looking for a relaxing, convenient and luxurious place to stay in Rockingham?
Palm Beach Bed and Breakfast has everything you need…
Rooms with complete facilities that are only a short, 4 minute walk to the beach and vibrant Rockingham foreshore and cafe strip.  The rooms are spacious, clean, bright and include complete facilities, from your own private access to your in-room fridge.
The rooms and location are ideal for singles, couples and also CORPORATE accommodation.
Please browse our website for further details, and contact us or use the booking form here.
We look forward to welcoming you for your stay in Rockingham. Whether it's a romantic weekend for two, business stay or a beachside holiday with the family.  Palm Beach Bed and Breakfast offers guests luxurious accommodation for a delightful stay in Rockingham.
We are located in the heart of Rockingham, Western Australia and only a short stroll to the main Rockingham beaches and cafe strip, which includes award-winning restaurants and bars.
Look at these recent fantastic Trip Advisor reviews from guests…
Booked a 2 night stay & was really impressed with the room & facilities, very clean & neat. Breakfast was very good & DVD's & Books available to read if needed. Located near the beach & café strip. Ann & Peter were a lovely couple, very friendly & obviously take pride in their business. I would highly recommend this B & B to anyone. I will definitely be going back.
We had 3 weeks in Australia between Albany,Busselton and Rockingham. Rockingham was by far our favourite place and Palm Beach bed and Breakfast was like a home from home. Our room was clean, comfortable with a small kitchen and ensuite, the hosts Ann and Pete were very helpful regarding public transports to Perth and surrounding area's. The beach was just a short walk away as were the restaurants shops and cafe's. if we ever go back to Australia we would definitely return to Palm Beach.
Recently I had to find emergency accommodation for a family member. After several phone calls to other hotels in the area, I finally rang this business.
They were all too happy to help and went above an beyond to make life easy for everyone in a crisis.
It is this kind of customer service that makes or breaks an establishment and I wont forget Ann and Peters help and humanity! :)
This B&B is a must if you are staying in the Rockingham area either on holidays or for business.
The place is clean and very comfortable, very well equipped with everything you need to have a comfortable stay. The operators couldn't do enough for us and responded to all requests with professionalism and courtesy.
Great location close to many shops, restaurants and cafes. Rockingham is very progressive and no longer the rough area it was.
Give this place a go and make sure you talk to Ann.
The Rooms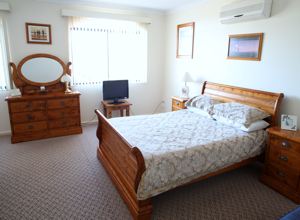 Queen Rooms
From $140 per night, these rooms include ensuite and facilities.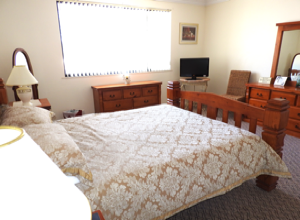 Two Room Apartment
Perfect for a group or family stay in Rockingham.
Rockingham accommodation close to it all…
Palm Beach B and B – as you can see from the wonderful reviews above – is an excellent choice, whether you're visiting Rockingham for a relaxing weekend, or bring the family for a longer holiday.  The relaxing lifestyle is easily enjoyed with strolls to the beaches and restaurants as well as easy access to the varied tourist attractions Rockingham has on offer.  Clean, comfortable Bed and Breakfast accommodation right on the coast at Rockingham.